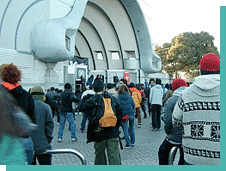 ■ Events



Events can be major meeting points for different cultures.

We open the doors to effective capitalization of intercultural events.

From sales presentations to international conferences, AmAsia can help you key the event for the greatest impact on your target audience.

■ Sales Services
AmAsia represents international producers of events and attractions in Japan.

We provide complete Japanese localization of sales materials. We make sales calls with clients or alone. We engage in contract negotiation on behalf of clients and we close deals.

■ Operational Services
We assist in all facets of event production, from stage management and scheduling to the coordination of local labor, facilities, and equipment.

■ Translation & Interpretation
We provide event and presentation materials translation, speaker interpretation, as well as accompanying interpretation for short- or long-term events.

■ Coordination Services
We can coordinate accommodations, transport, meals, and facilities.*

* AmAsia is not a travel agency. However, we work with various organizations to provide you with the best possible value and convenience.


Copyright 2004 AmAsia Inc